Red Rocks Amphitheater. Garden of the Gods. Yampa River Botanic Park.
These places all conjure up images of gorgeous landscapes under bright Colorado skies — which makes them wonderful places to do yoga! I am loving this article from UCHealth, "Outdoor yoga: Top spots from Red Rocks to your park or county fair," which includes yoga spots I've never heard of (Dragonfly Paddle Yoga) as well as bilingual yoga (Denver Botanic Gardens) and — a bucket list item for me — goat yoga (Boulder County Fair).
With the school year right around the corner, I'm going to need fun new ways to unwind. Where are some of your favorite spots for an outdoor tree pose?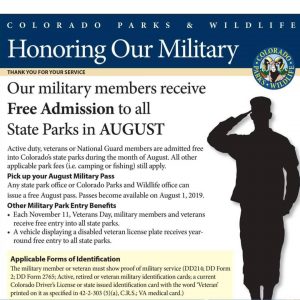 Did you know that all Colorado State Parks celebrate Military Appreciation Month in August? Here is how you can take advantage of the parks' free admission this month (details and image courtesy of Lory State Park):
Stop by any Colorado Parks and wildlife locations show one of the following:
CAC Card
DD Form 2 (reserve / retired)
DD Form 2765
DD Form 214
Colorado drivers license with Veteran identifier 
Military personnel receive a state park annual valid for the month of August.
Visit the Colorado State Parks website for a full list of military benefits that extend throughout the year. 
By the way: veterans and active duty military, are you looking to relocate? I am a certified military residential specialist; reach out if I can be of help, and thank you for your service!