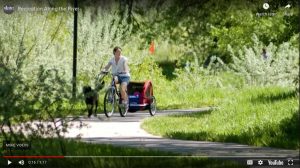 Today I stumbled on a link I had to share with you: the Cache le Poudre River National Heritage Area video archive. If you are curious about the cities along the Poudre River (specifically Fort Collins, Loveland, Windsor and Greeley), these 30+ videos create a wonderful way to learn about the area without ever leaving home.
Visitors to the area: Start with videos about points of interest such as the Fort Collins Museum of Discovery or the Windsor Lake and Museum.
History buffs: The Poudre NHA has created many videos looking back on the heritage of the river; try The Poudre River Flood of 2013 or A River Runs Through It. The NHA also offers a great series of conversations with Northern Arapaho leaders such as Mark Soldier Wolf.
Science lovers: Now I know how a fish ladder works, how water flow is measured, and how the city keeps a river healthy.
My personal favorite: The animated history of the National Heritage Area. What can I say—it's adorable!