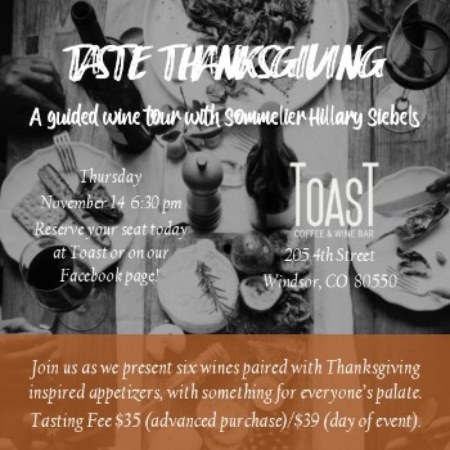 Oh Windsor, you get me.
On Thursday, November 14th at 6:30pm, Windsor's Toast Coffee & Wine Bar is hosting a delicious-sounding guided wine tour, pairing six wines with appetizers inspired by Thanksgiving.
Sommelier Hillary Siebels is visiting Toast for this event, which promises to be beginner-friendly — "You don't have to know much about wine to find this experience educational & tasty."
Tickets for this 21+ event are $35 and reservable in advance. Visit the Facebook event page for more information.
What a delightful excuse to visit downtown Windsor!
P.S. The Coloradoan has previously interviewed Hillary Siebels and other local sommeliers about "how to become a wine expert." Fort Collins Magazine has also picked Siebels' brain about the perfect bottle of wine to give as a gift.