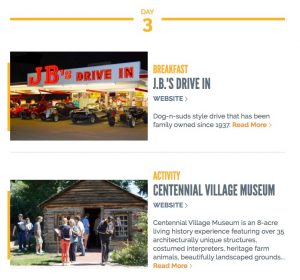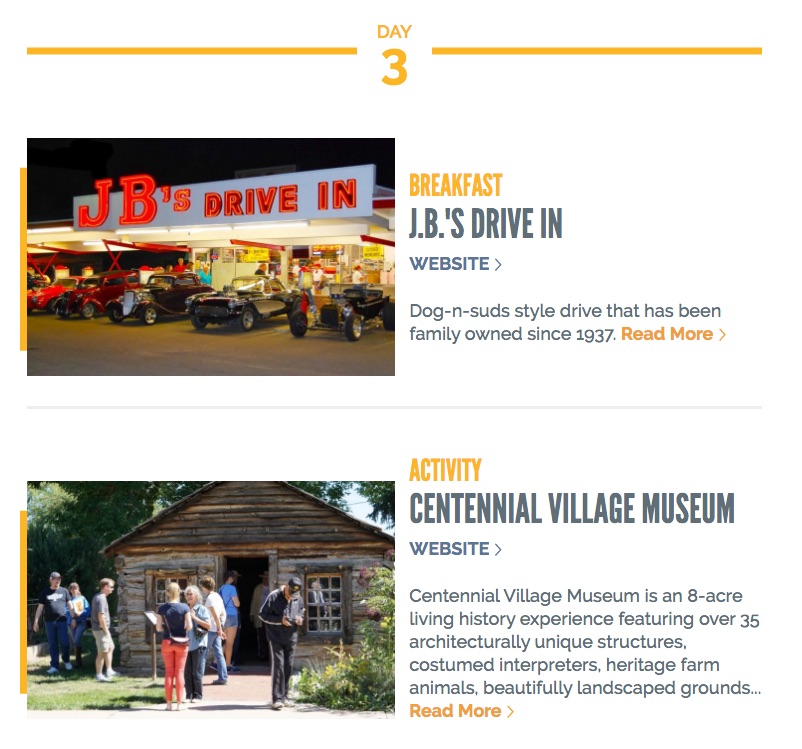 Did you know that Colorado.com publishes "Colo-Road Trips"? These ready-made itineraries provide great information about how to string together some of Colorado's best food, culture, history, nature and more into a memorable road trip packed with adventure and exploration.
For example, take a look at their "Days of Fun in the Cache la Poudre River National Heritage Area." Per the website, "From Fort Collins to Greeley and the villages of Laporte and Windsor, this northern Colorado region is packed with expansive views, welcoming locally sourced restaurants, frontier history and much more." I couldn't have said it better myself — and even though Northern Colorado is my stomping grounds, I still found plenty of new-to-me spots for my to-do list. It might be time for a staycation!
Posted on October 27, 2019 at 7:00 am
Anali Roath
Category:
Fun Facts
Tagged

adventure, colorado, exploration, fort collins, fun, greeley, Laporte, northern colorado, road trip, windsor
The town of Berthoud in Northern Colorado has been booming lately. Anna S., a recent transplant to Berthoud, explains why she and her family felt so drawn to this up-and-coming area.  
What are a few of the other areas you considered, and what made you ultimately choose Berthoud?
Anna: We looked at a lot of places in Northern Colorado: Fort Collins, Loveland, Windsor, Johnstown, Greeley. We fell in love with Berthoud's downtown and the fact that we could afford a place close enough to it to be able to ride our bikes there. It has a couple good breweries, a distillery, and a really good bakery, plus some cute shops. It's a very walkable downtown.
It was also in just the right spot for us. We travel frequently, and we really wanted to be under an hour to the airport. We're also 45 minutes to downtown Denver, 35 to Boulder, 45 to Estes Park, and 30 to Fort Collins. Loveland and Longmont are both great cities and very close. Carter Lake is an enormous, beautiful reservoir, and it's only 15 minutes away. Berthoud is really centrally located.
You've lived in Berthoud for a few months now. Do you have a few favorite haunts?
Anna: City Star Brewing makes great beer, hosts great music, and has a great beer garden. They also sponsor a lot of community events. RISE Bakery is excellent. There are also several good thrift stores – Mr. Thrift, Habitat for Humanity, Flashback Antiques. And I absolutely have to mention Little Thompson Observatory; it's an amazing facility, particularly for a town this size.  
What makes Berthoud a family-friendly town?  
Anna: The downtown has lots of programming and events, such as Berthoud Days in the summer, Snow Fest, Oktoberfest, and weekly farmers' markets. They're having their first fireworks show this summer. Apparently there's a large quilting festival in July! Due to the recent growth in Berthoud, there are a lot of young families moving here.  
Is there anything else that house hunters should know about Berthoud?
Anna: The P.O.R.T. Advisory Committee (parks, open space, recreation, and trails) has been working on a really impressive recreation master plan. Berthoud is the Garden Spot of Colorado, and they take it to heart with lots of trees, community gardens, trails, and great landscaping.
Curious about Berthoud? Let's talk!
How would you like 1/2 off your mortgage?! I imagine most people would jump up and shout "YES!" to that question. Unfortunately I can't give you half off of your mortgage but based on todays rates and the long-term average (going back with 40 years of data), mortgage rates are still at an all time low and are actually half of what the average is. Todays rates are hovering around 3.5% and the 40 year average is actually around 7.5%, more than twice the current rates! What does that mean? That means someone with a $350,000 mortgage at the 3.5% interest rate has roughly the same mortgage payment as someone with a $250,000 mortgage at 7.5%. Wow!
What's going on? Why is this happening? Well, there are a couple reasons, the biggest one is the global economy. Right now the American economy is in recovery mode and is growing stronger. Normally that would mean a shift up in rates. However, the rest of the world is not faring so well and is keeping rates low because of it. Did you know that nearly 500 million people all over the globe are in a "negative interest rate" situation? That means that the banks are charging THEM, the consumer, to keep their money in the bank instead of the other way around. And you thought your 1.5% savings account was bad! Can you imagine actually losing your money over time if you tried to save it in a bank? These economies are trying to encourage spending by essentially penalizing their citizens for saving. They feel that if they are forced to spend, it will help bolster their weakening economies. While we're not sure how sound this strategy is, these economies are the ones you can thank for our current, historically low rates. At some point the global economy will start to recover and then you will start to see an increase in rate, until then- Half Off All Mortgages!!
Posted on July 22, 2016 at 2:27 pm
Anali Roath
Category:
Uncategorized
Tagged

buy, colorado, fort collins, greeley, home, house, invest, loveland, mortgage, northern colorado, real estate, realtor, sell